Introduction
We understand the complexity of code and policy as the most fundamental security problem shared by modern general-purpose operating systems. Because of high functional demands and dynamic workloads, however, this complexity cannot be avoided. But it can be organized. Genode is a novel OS architecture that is able to master complexity by applying a strict organizational structure to all software components including device drivers, system services, and applications. The Genode OS framework is an open-source tool kit for building highly secure component-based operating systems. It scales from embedded devices to dynamic general-purpose computing.
keywords

capability-based security, microkernel, principle of least authority, sandboxing, virtualization
The Books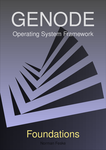 The book "Genode Foundations" describes the Genode OS framework in a holistic and comprehensive way. It equips the reader with a thorough understanding of the architecture, assists developers with the explanation of the development environment and system configuration, and provides a look under the hood of the framework. Furthermore, it contains the specification of the framework's programming interface. Download as PDF or Browse online...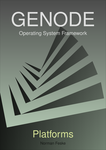 The "Genode Platforms" document complements the Genode Foundations book with low-level hardware-related topics. It is primarily intended for integrators and developers of device drivers. Download as PDF
Sculpt OS 22.10 is a maintenance release of our Genode-based general-purpose OS. It imposes a new rigid regime to the management of low-level devices, improves USB hotplug support, and comes with numerous performance optimizations.
The overarching theme of Genode 22.08 is the emerging phone variant of Sculpt OS, touching topics as diverse as USB ECM, Mali-400 GPU, SD-card access, telephony, mobile-data connectivity, the Morph web browser, and a custom user interface. Among the further highlights are new tracing tools, improved network performance USB smart-card support, and VirtIO drivers for RISC-V.
The highlights of Genode 22.05 are the new support for WireGuard virtual private networks and a fresh lineup of PC device drivers. Further topics are basic telephony with the PinePhone and dynamic device management on Xilinx Zynq.
In the second revision of the Genode Platforms document, Genode Labs shares its former in-house expertise about moving Genode to new hardware devices.
Sculpt OS version 22.04 introduces the concept of service-level sandboxing and features completely new drivers for wireless, graphics, and USB.
With Genode 22.02, 3D acceleration becomes available to guest operating systems running in VirtualBox 6, Sculpt OS evolves into a versatile framework for building special-purpose operating systems, and Genode starts to interact with the modem of the PinePhone.
More...